SAMSUNG GALAXY NOTE 20 ULTRA /Specifications/launch date
The official unpacked event for the Samsung Galaxy Note 20 series has now been confirmed. We've seen some leaked renders of the Note 20 ultra as well as for the first time, some hands-on images and videos. What's up guys, And let's break down all of these recent leaked rumors.
So the first leak, the unpacked event promo has now gone out. The 5th of August is the date that you need to put into your diaries. This is unfortunately just going to be a digital unpacked event, not a physical one, which I'll be able to go to. Nevertheless, it's going to be very, very exciting. Now looking at this promo.
We can see the S pen, of course, because it is the Note 20 series. But we see a droplet going down and into a splash. Now what's interesting about this droplet is it's in a copper color. And that copper color nicely translates over to the leaked renders that we saw. And these were accidentally posted on the Samsung Russia website. Now, we're going to say this copper color does look slick. And reputable leaker IceUniverse has also said that this is likely to have a frosted finish.

Now, having a look at these renders, we can see a rectangular camera module, which is kind of expected because Samsung is adopting this rectangular camera module design across most of their smartphones this year. And it is quite a large camera bump. But if we look inside this camera module, we can see three circles. One of these is, of course, going to be an ultra-wide camera. One is going to be the primary camera. If you look at the last circle, we can notice a rectangle within this circle. And that indicates that this will be the Periscope zoom camera. We can also notice a time of flight sensor within this module. And thankfully, there are no 100X texts like we had on the S20 ultra. Something that I did complains about a lot. Now, Ice Universe has said that Samsung is going to be ditching 100X zoom. And they're going to besticking to 50X max zoom, which is going to be much more optimized. I'm so, so glad that Samsung is going down this route. Because as you've heard me say many times before 100X zoom is kind of like a party trick, which you'll pretty much only use once. And the results are not usable. Ice Universe has also said that the autofocus issue that was initially experienced on the S20 Ultra has now been resolved for the Note 20 series. And that might mean that we've got dual pixel autofocus again the Note 20 Ultra. Something which I'll be very happy about. The S20 Ultra has improved with time over software updates. But if they do have dual pixel autofocus, then that's going to bring it in line with what we expect from Samsung.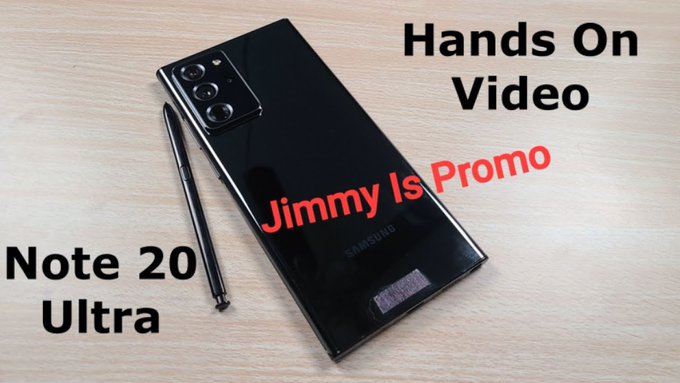 Now, the design that we've seen in these renders have been further confirmed by actual hands-on leaked images and video from Jimmy is a promo. Now looking at these images, we do see a black version of the Notes 20 Ultra. And in these images and videos, we do also get to see the front of the Note 20 Ultra. And we have slightly smaller bezels as well as a slightly smaller punch out. So the punch out is still staying here. And we do also see some slightly more squared-off edges with a curved display. The S-pen has also moved from the right to the left-hand side if that matters to you. And the buttons are also now completely on the right-hand side like we've got on the S20 Ultra. Now, of course, the S-pen is going to come with some new and improved features. One of the new features that we've seen leaked is the ability to use the S-pen as a pointer. How exactly this is going to work, we'll have to wait and see. But it seems like you may be able to connect the Note 20 Ultra via Desk to a display, and then be able to use the S-pen that way.
Now internally, it looks like the Note 20 Ultra is going to be powered by the latest Qualcomm Snapdragon 865-plus chipsets, which has just been announced by Qualcomm. This is going to give a 10%boost over CPU performance, as well as GPU performance compared to the 865. And this will make the Note 20 Ultra one of the most powerful smartphones out there. However, it still does look like we're going to get a Qualcomm Snapdragon version for certain markets. And other markets, we're also going to be seeing an Exynos version. The good news is it will bean improved Exynos version. The Exynos 992 is currently what's being rumored. Whether or not that's going to match up to the performance of the 865-plus, I'mdoubtful but let's see. Apart from that, we are looking at around 16 gigabytes of Ram and a micro SD card slot, at least for the Note 20 Ultra.

But just to quickly run through them, Note 20 is likely to have around a 6.4-inch display with full HD resolution, 120 hertz. And the Note 20 Ultra is likely to have around a 6.9-inch display with quad HD-plus resolution as well as 120 hertz. What's interesting is that these displays are rumored to have LTPO technology, which is more power-efficient. And this will hopefully mean that on the Note 20 Ultra, we'll be able to have quad HD-plus resolution with 120 hertz. Something that you can currently do on the S20 Ultra. There's also a possibility that the Note 20 Ultra will be using Qualcomm's 3DSonic max fingerprint scanner, which is 17 times larger compared to what we currently have. It's much more secure, it's faster. And you can also use it with two fingers at one time. For the batteries, we're looking at around 4,000 to 5,000 milliamp per hour. So we're going to have pretty large batteries. And for the official release date when the devices are going to be shipped out, this is looking like it might be around the 21st of August in the US, based on recent reports from a Korean website, ITI news. Unfortunately, there is no solid pricing information as yet. But I'm sure it's going to becoming very, very soon as well as many other leaks and rumors in the lead up to unpack. So I will do another final leaks and rumors roundup. If you want to see that first, then be sure to Join this page. What do you guys think of the Note 20 series based on these current leaks and rumors? Let me know in the comments below. I'm excited, as you guys may already know. And we'll also be doing lots of comparisons versus the Note 20 when it is out. I hope you enjoyed this blog and found it useful. If you did, then do it that thumbs up on for me. Thanks for reading it. and I'll see you next time Do-Follow Technewsdaily.in For regular Updates.